Activities
Decisions
Phased approach to the project
The team defined and proposed a phasing approach for the project. 

School of Education Senior Leadership approved the phasing approach on 7/23/19 at the Senior Leadership Retreat.

School Chairs approved the phasing approach on 7/31/19 at the Chairs Planning Retreat.

Phase 1

(Pilot phase)

Main School of Education site

One department site – Curriculum and Instruction (C&I).  We will create repeatable processes which can be used to efficiently develop other department sites!

Phase 2 – Remaining departments in Sitefinity

Educational Policy Studies

Rehabilitation Psychology & Special Education

Educational Leadership & Policy Analysis

Counseling Psychology

Dance

Phase 3 – Remaining units in Sitefinity to incorporate into academic department sites

WISCAPE into ELPA

EPTC (TBD)

Phase 4 – Optimize sites that were already in WordPress as of July, 2019 (Art, Kinesiology, Educational Psychology, Theatre & Drama, MERIT) and migrate unit sites that were part of the original project plan (CCBC, The Network, Testing & Evaluation)
Timeline:
The team has finalized a detailed schedule for developing the School of Education and Curriculum and Instruction (C&I)  sites.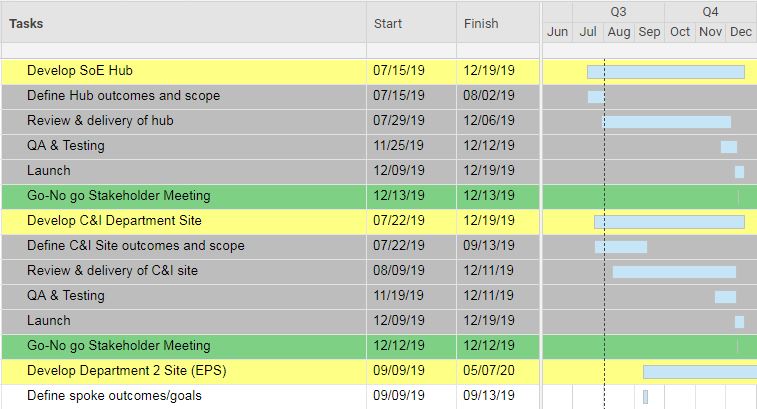 Departmental site navigation elements: Common and flexible
The team is currently proposing to key department stakeholders, what will be common elements across all department sites versus what are flexible elements, which can be tailored to a department's unique needs. 
Engagement with Stakeholders 
The team is developing a detailed engagement plan for socializing designs, acquiring feedback from stakeholders, and approval for designs.
Meetings
Colleen Howes and Andy Cunningham gave a project update presentation at the chairs planning retreat on 7/31
The web team had common vs. flexible elements presentation with C&I, ELPA, EPS, and Counseling Psychology.
Development Progress
University marketing is currently reviewing the current hub navigation and utility menus in preparation for creating the first draft wireframes for the hub site.

School of Education web developers are working on custom page elements for the departmental sites.
Staff photographer is working with departments to schedule profile photos of all faculty/staff.