Overview
The faculty web profile content will continue to be powered by Digital Measures software. Digital Measures is a web-based interface that stores faculty activities for use in a variety of ways. Faculty can easily generate CVs and Professional Activity Reports (among others), while administration can use the information for submitting public information to U.S. News and World Reports and other ranking entities. For the web site, the data is used to display the education, publications, presentations, creative works, and awards & honors on individual faculty pages.
General Workflow
All faculty in the school have Digital Measures accounts created for them upon their hire. The office of Communications and Advancement has student staff who will enter activities into the database on the behalf of faculty.
Web Profile Workflow
The web profile workflow process was piloted and refined with C&I.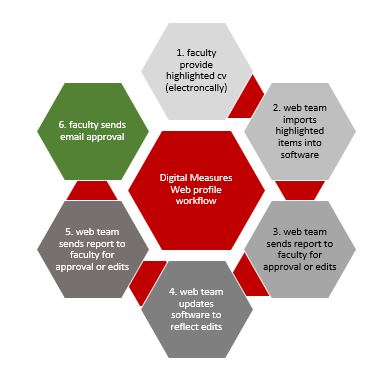 email query sent to faculty requesting an electronic copy of their cv with the following items highlighted for inclusion on their web profile
web team imports the highlighted items into the Digital Measures software
web team emails report to faculty for edits or approval
web team will make updates to reflect edits by faculty
web team sends new report to faculty for edits or approval. repeat steps 4 and 5 until
faculty emails approval to web team